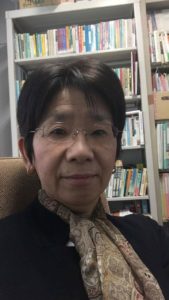 Professor of Muroran Institute of Technology, Hokkaido, Japan
Major: China's national integration, Chinese modern history, History of Muslims in China, minority studies, Islam and gender
Books:
Masumi Matsumoto and Atsuko Shimbo 2011. "Islamic Education in China: Triple discrimination and the challenge of Hui women's madrasas". In Sakurai Keiko and Fariba Adelkhah, eds., The Moral Economy of the Madrasa: Islam and education today. London: Routledge.
Masumi Matsumoto 2010 Isuramu e no kaiki (Return to Islam: Muslima in China ), Tokyo: Yamakawa Shuppansha
Masumi Matsumoto 2006 "Rationalizing Patriotism among Muslim Chinese" Kosugi, Komatsu and Dudoignon, eds., Intellectuals in the Modern Islamic World Century:Transformation, Transmission, Communication , London: Routledge.
Masumi Matsumoto (Songben Zhencheng) 2001 Zhongguo Minzu Zhengce de Yanjiu (A Study on China's Policy toward National Minorities), Beijing: Minzu Chubanshe, (In Chinese)